Schwulenberatung Berlin
Specialised Consultation Service for LGBTI* refugees
We inform you about your rights and support you, e.g.:
in the asylum process
Specialised asylum officers* in the asylum procedure
Right of residence
Discrimination
Together we will find the right support for you, e.g.:
Legal advice
Psychological counselling
Social counselling
Integration support
Job counselling and educational counselling
Sexual health, LGBTI* sensitive health care
We will support you with applications, e.g.:
Social benefits
Psychotherapy
Application for asylum
We support you in communicating with, e.g.:
LAF
District offices
Foreigner's office
BAMF (Federal Office for Migration and Refugees)
Job Office
We arrange for you to stay in our accommodation for lesbian, gay, bisexual, trans* and inter* refugees, if you wish.
We put you in touch with social, legal and health services that are sensitive to LGBTI*, if you wish.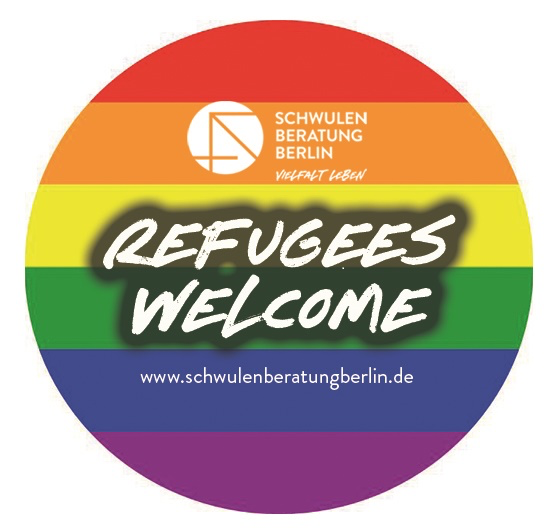 Get in touch with us and tell us what you need.
Counselling without an appointment:
every Tuesday and Friday
2-6pm at "Café Kuchus"
If you are unable to join us during the opening times of Café Kuchus, please send us an email to make an appointment.
We have linguistic mediation for the following languages on site: English, French, Spanish, Russian, Arabic, Dari/Farsi.
Other languages are available upon request.
We advise you anonymously, if you wish. You do not have to tell us your name.
Schwulenberatung Berlin gGmbH
Wilhelmstrasse 115
10963 Berlin
The open consultation at "Café Kuchus" is accessible.
Unfortunately, not all our rooms are accessible. When booking an appointment, please let us know if we should organize an accessible room for our appointment.

 S-Bahn Anhalter Bahnhof


 U-Bahn Kochstraße


 Bus M29 Wilhelmstr./Kochstr.